If you have been researching Parkinson's treatments, you may have encountered the new experimental device called a 'Parkinson's Glove'. But what exactly is this treatment that has researchers hopeful for improved health outcomes for Parkinson's patients? Could a high-tech glove complement, or even improve on current treatment methods like exercise and medication?
In this article, we'll explore where research for the Parkinson's glove began, how the treatment works, and the details of the effectiveness in recent clinical trials. We'll examine how modern technology may present a promising treatment for you or someone you love, and we'll provide resources for a variety of other treatments that you can begin today.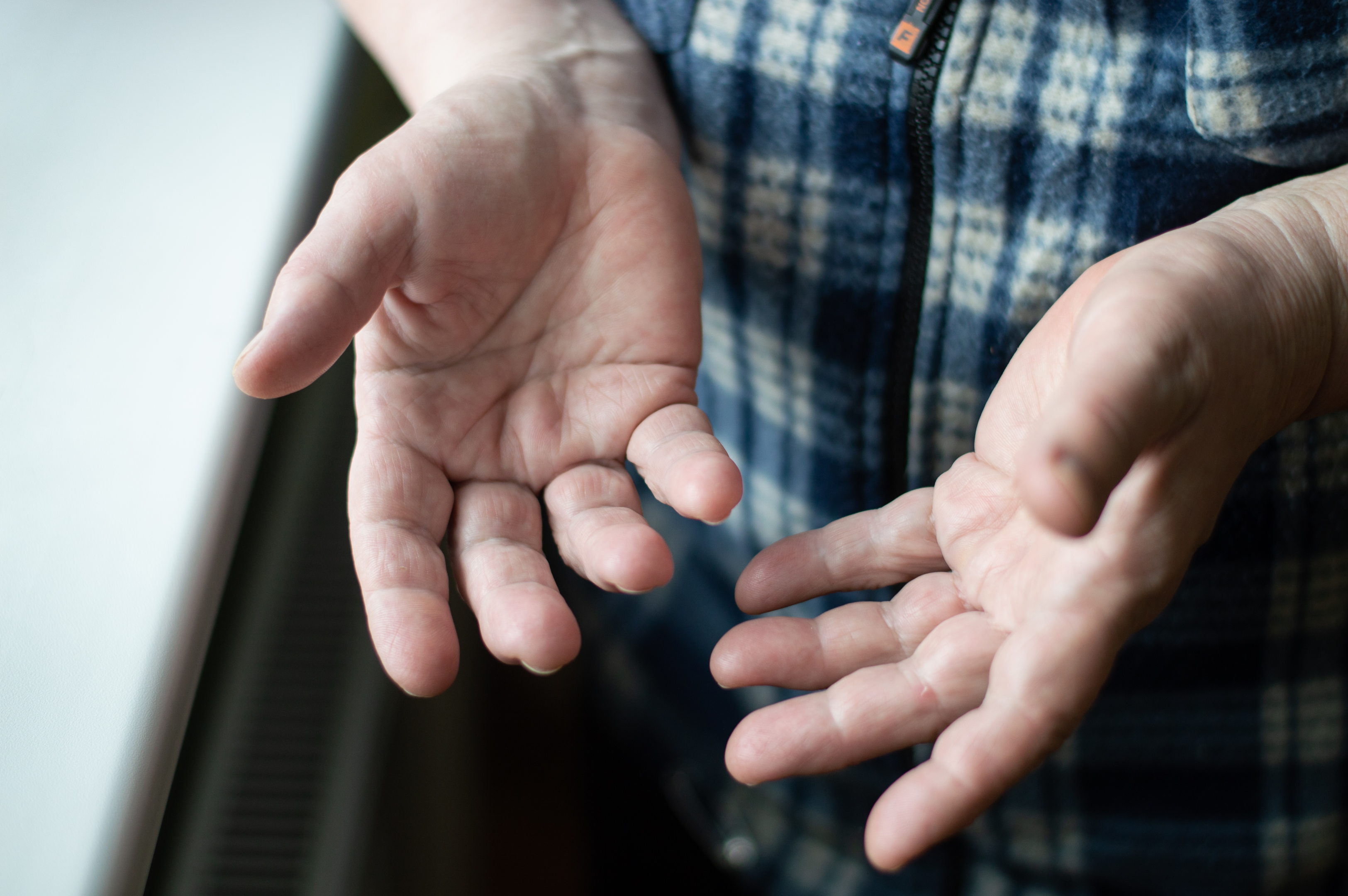 The History of Vibration Treatments
Vibration as a medical treatment was first studied in the 19th century when French neurologist Jean-Martin Charcot noticed that some patients' symptoms improved after long carriage or horseback rides.
Following this discovery, Charcot developed a vibrating chair, but studies with full-body vibration were limited and mostly inconclusive. However, the theory eventually carried over into the work of modern Stanford University researchers who are using technology to build on Charcot's century-old findings. (1)
The Theory of Vibration Treatment
Parkinson's Disease attacks the cells in the brain that create dopamine. Dopamine is necessary for nerves to communicate to form movements. With the onset of Parkinson's Disease, neurons begin abnormally firing together, creating unwanted movement patterns like tremors, rigidity, or difficulty initiating movement. (1)
In a clinical trial setting, researchers have found some evidence that vibration, may help the body unlearn abnormal firing patterns to reduce tremors and muscle rigidity. (1)
In 2014, a systematic review was performed examining the effects of full-body vibration on mobility and balance problems. Most studies reported favorable outcomes with the use of vibration, but results did not appear to be as beneficial as active interventions or placebo treatments.
These studies used multiple parameters and dosages of vibration and did not look at the use of vibration with other treatments as this may provide greater benefit. (2)
While trials are ongoing, other currently practiced PD treatments include medications that mimic dopamine, brain surgery to insert deep brain stimulators, and exercise.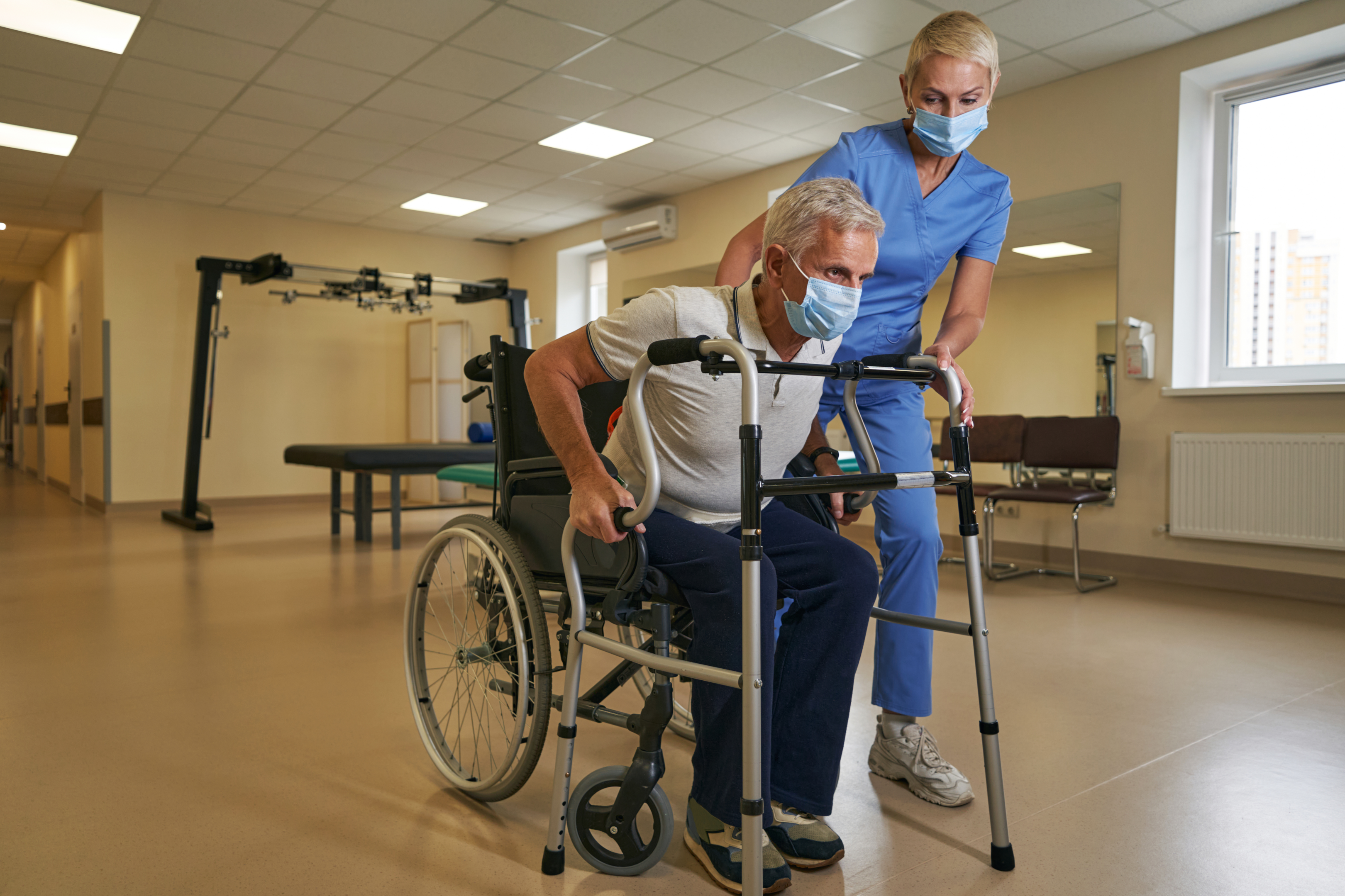 How Vibrating Gloves May Help
Your fingertips collect a great deal of information every day, and the brain dedicates a lot of space to process and store those sensations. This is the basis of research on the use of vibrating gloves (or electrostimulation of the hands) for use with Parkinson's patients. (1,3)
The glove may cause the paired neurons to desynchronize when stimulated with a specific vibration frequency, halting the abnormal firing that happens with Parkinson's Disease. In turn, the body unlearns the abnormal patterns in favor of more "normal" voluntary movement patterns. (1)
One 2017 study demonstrated positive effects on reducing resting hand tremors compared to fake procedures in 37% of participants immediately following one 30-minute session. It was also found to be a safe, non-invasive treatment. (3)
Another small study found that wearing the glove for only two hours per day helped with tremors, stiffness, and even balance and walking problems. (4)
Dr. Peter Tass, MD, Ph.D., and his team of Stanford researchers are on the leading edge in researching the effects of vibration treatments for Parkinson's patients as an alternative to interventions like drugs or deep brain stimulation. (1)
In April 2021, Dr. Tass and his team published the results of one small study that showed improved motor performance, and neuronal synchrony in the brain, with no side effects for participants in the mild to moderate stages of Parkinson's disease. Participants received treatment daily for a minimum of 3 months. (4)
Future Research
Since August of 2022, Dr. Tass's team has engaged in further clinical trials to bolster their findings, working towards FDA approval for this treatment.
Ongoing clinical trials will be very important for the future use of vibration-based treatments, and larger sample sizes are needed to determine which patients will respond best to Parkinson's Gloves. (1,5)
As these studies progress, variables like cost and dosage (vibration frequency, length of treatment, number of treatments) will become clearer and more standardized.
Finally, although these treatments appear to be very safe, it is unclear whether this device will only be used in medical settings or if it will be safe for people to use at home.
When Can I Try The Parkinson's Glove?
As the Parkinson's glove is still in clinical trials, they are not widely available for patients at this time.
If you are interested in becoming a patient in these studies, you can use Fox Trial Finder to look for current and future Parkinson's studies or visit the Tass Lab at Stanford Medical School for more information about their ongoing research. (5, 6)
You can also find more information about ongoing studies at clinicaltrials.gov. Participating in research studies can be one of the best ways to contribute to progressions for Parkinson's disease. (5)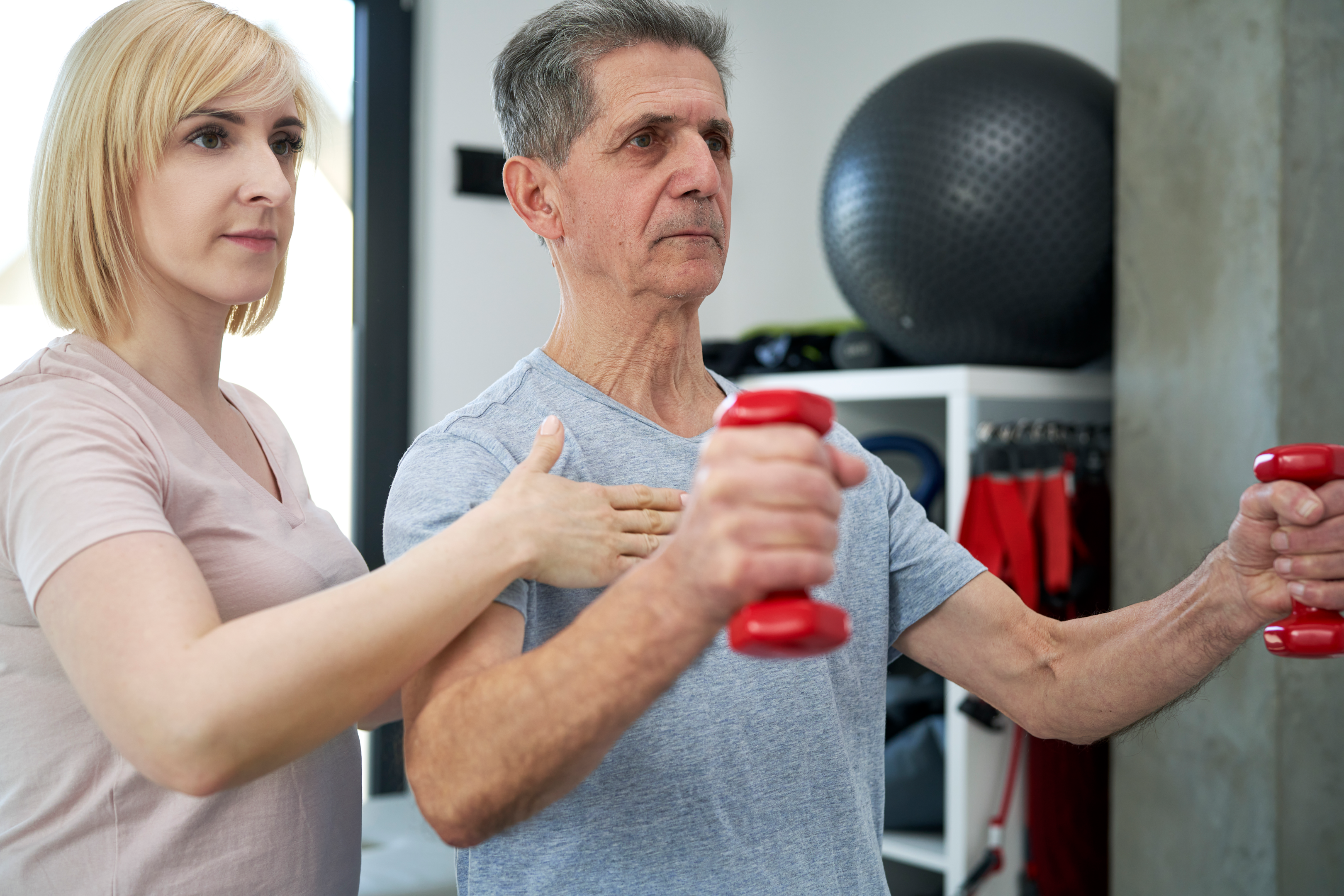 Current Parkinson's Treatment Approaches
Medication, physical therapy, and exercise have also been shown to help manage and delay symptoms of Parkinson's disease. Exercises generally focus on large movements, balance training, strengthening, and flexibility to help people improve motor patterns and maintain their physical function.
The Parkinson's Outcomes Project found that those who exercise at least 2.5 hours per week in the early onset of the disease had a slower decline in quality of life and slower progression of symptoms. (8)
Exercise can help with both maintaining and improving current fitness and mobility but also has a "neuroprotective effect." Studies show that exercise helps the brain build new pathways while improving your brain's ability to efficiently use dopamine to reduce the impact of the disease. (8)
Parkinson's often causes slower and smaller movement patterns, like shorter gait (length & width of footsteps), and makes it more challenging to do everyday tasks like standing up from a chair. Large-amplitude exercises (popularized by the LSVT BIG and LOUD programs among others) have been clinically proven to teach your body to move with big, practiced movement patterns again.
Using Poles for Stability During Exercise
Many of our Parkinson's patients like to use walking poles for added security during exercise. The type of poles you use definitely makes a difference. Urban Poling ACTIVATOR Poles are our #1 recommendation. Urban Poling ACTIVATOR Poles were designed by an occupational therapist & gerontologist specifically for rehab and long-term conditions. The smart design enhances strengthening, stability and off-loading with your safety in mind. These are the right support tool while challenging yourself through a Parkinson's exercise program.
Our recommendations are the same items we trust and prescribe to patients. When you buy through links like this on our site, we may earn an affiliate commission to support new content.
Other activities like boxing, dancing, treadmill walking, tai chi, qi gong, or aerobics can also be helpful. Research supports using higher-intensity exercise to increase your heart rate and oxygen utilization when possible. (9)
Most importantly, it's best to choose exercise that you enjoy; consistency with exercise is key for long-term results, and it's much easier to keep doing something you like to do.
Ohio Health has created a group exercise class specifically for treating Parkinson's Disease. Delay the Disease focuses on symptom-specific training to help with imbalance, bradykinesia (slowed movements), freezing, posture, and rigidity. This program is currently widely available in the midwest and is gradually expanding nationwide. (10)
The Parkinson's Foundation has also created a free exercise recommendation sheet outlining guidelines for exercising with Parkinson's disease. (11)
Finally, physical therapy can be a great place to start if you are experiencing symptoms of Parkinson's Disease. A trained PT can help you find the best type of exercise for your symptoms and provide safety tips to reduce your risk of injury or falls prior to exercising on your own.
Summary
If you are beginning to notice Parkinson's symptoms, be sure to talk with your doctor right away. Although the Parkinson's glove is still in its early stages, new research is underway that may provide even greater, non-invasive treatment options for patients.
In the meantime, medications and exercise can greatly lessen the impact and slow the progression of the disease. Talk to your doctor today to learn how you can begin to treat PD.
References
MacCormick, Holly. Good Vibrations- Can Parkinson's Symptoms be stopped? Stanford Medicine Magazine: Neurology and Neurosurgery. 2021 Oct 14. (2) https://stanmed.stanford.edu/vibrating-glove-reorganize-neurons-parkinsons/
Sharififar, S., Coronado, R. A., Romero, S., Azari, H., & Thigpen, M. (2014). The effects of whole body vibration on mobility and balance in Parkinson disease: a systematic review. Iranian journal of medical sciences, 39(4), 318–326.
Jitkritsadakul, O., Thanawattano, C., Anan, C., & Bhidayasiri, R. (2017). Tremor's glove-an innovative electrical muscle stimulation therapy for intractable tremor in Parkinson's disease: A randomized sham-controlled trial. Journal of the neurological sciences, 381, 331–340. https://doi.org/10.1016/j.jns.2017.08.3246
Pfeifer, k., Kromer, J., Cook, A., Hornbeck, T., Lim, E., Mortimer, B., Fogarty, A., Han, S., Dhal, R., Halpern, C., Tass, P. (2021) Coordinated Reset Vibrotactile Stimulation Induces Sustained Cumulative Benefits in Parkinson's Disease. Frontiers in Physiology. 12 (624317).
Michael J Fox Foundation. Glove Shows Potential to Ease Parkinson's Motor symptoms. 2022, Dec 14. https://www.michaeljfox.org/news/glove-showing-potential-ease-parkinsons-motor-symptoms#:~:text=The%20 gloves%20deliver%20light%20
Stanford Medicine: Peter Tass Lab. https://med.stanford.edu/tass-lab.html
Peterka, M., Odorfer, T., Schwab, M., Volkmann, J., & Zeller, D. (2020). LSVT-BIG therapy in Parkinson's disease: physiological evidence for proprioceptive recalibration. BMC neurology, 20(1), 276. https://doi.org/10.1186/s12883-020-01858-2
Parkinson's Foundation. Exercise. https://www.parkinson.org/living-with-parkinsons/treatment/exercise
Parkinson's Foundation. Fact Sheets: Parkinson's Exercise Recommendations. https://www.parkinson.org/library/fact-sheets/exercise-recommendations